'Be Well with Shell' provides a Sussex baby massage course that is tailored to suit the needs of the parents and carers. You are welcome to book in to my treatment room in Newhaven or I can visit your home providing there is a suitable space to work in. Courses can be run as one to one sessions, or for couples, parents and carers or small groups. Please feel free to contact us regarding your personal situation as we are happy to accommodate requests.
Benefits of Baby Massage
Relaxes Your Baby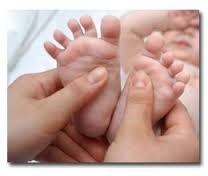 Massage is about providing a loving touch which reduces tension, fussiness and irritability. Relief of gas and colic through tummy techniques aids digestion. Providing massage is also a wonderful way to reduce stress for parent and baby.
Enhances Bonding
The touch between parent and baby during massage promotes nurturing and love. These are essential ingredients for emotional and physical growth and well-being in the baby and can reduce the incidence of postnatal depression in mums.
Aids Growth and Development
Studies have shown increased weight gain, immune function and myelination of nerves following regular massage in premature babies. These things are needed for brain and muscle development.
Promotes Communication
Parents become more aware of baby's nonverbal cues when engaging in massage. One-on-one communication gives the baby a message of love and security.
Improves Baby's Sleep
As your baby learns to relax and release stress, quality and length of sleep is often increased.
Relaxation for both baby and parent.
Massage releases feel good hormones, called endorphins to the parent and child, enabling both to feel great and relaxed.
Sussex Baby Massage course
Course length: 4 weeks
Session length: half hour, once a week
Price; £40 for baby and parent/ carer then, £15 for additional adults accompanying baby and parent/ carer, group prices on request
You will also receive an oil suitable to use on baby and a follow along with a handout as part of your Sussex baby massage course.
If you are expecting a baby check out the Be Well With Shell pregnancy massage in Newhaven.