Hot stone massage uses heated basalt stones to create a deeply relaxing treatment. During your Newhaven hot stone massage, the therapist uses a variety of techniques to move the stones across the body. This manipulates the muscles delivering heat deep into the muscular layers helping tension that has built up over long periods to melt away.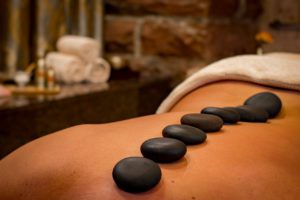 Hot stone massage increases circulation, improving the blood flow to and toxins away from the surrounding areas. The heat increases respiration, heart rate and the production of erythrocytes and leucocytes therefore boosting immunity, it also decreases blood pressure, stress and tiredness, making this a beneficial treatment.
How does it work? The stones are heated in water; they are made from basalt, an igneous rock formed from cooling molten lava after an eruption. It is because of this that they are able to hold onto and radiate heat consistently over time.
Newhaven Hot Stone massage: What to expect
On arrival a consultation will be carried out to find out about your health and well being. This will highlight any focus areas as well as deciding how to adapt the treatment specifically to your needs. It also allows you to ask any questions you may have as well as allowing the therapist to determine whether a treatment is suitable. (Treatment may be unsuitable due to some medical conditions, please see contraindications page for more details).
You will be able to change in private, once you are on the massage couch the therapist will freshen your feet and ensure you are comfortable.
A hot stone massage may last for 30, 60, or 90 minutes. A 30 or 60 minute treatment will focus on either one or two areas such as the back, neck and shoulders or arms, shoulders and face. A full body treatment needs a minimum of 60 minutes as the back, legs, feet, arms, hands, neck, shoulders, face and scalp are massaged.
During the hot stone treatment the therapist will use a selection of heated basalt stones and various massage techniques. Moving the stones over the body to transfer heat and work into the muscles. It is said that one stroke of a basalt hot stone is equal to 5 of a therapists hand.
This is a very relaxing, stress reducing massage that can also be used to address specific problem areas with more detailed work or deeper pressure. The heat from the stones relaxes muscles which increases the blood flow to the area being worked further accelerating the healing process.
At the end of the treatment you will be able to dress and then take a seat to have some water before going back out into the world. Allow some time at the end of this treatment to get ready to leave slowly, as it is a deeply relaxing massage you may need to lay in the Newhaven treatment room and become grounded before sitting up to dress.